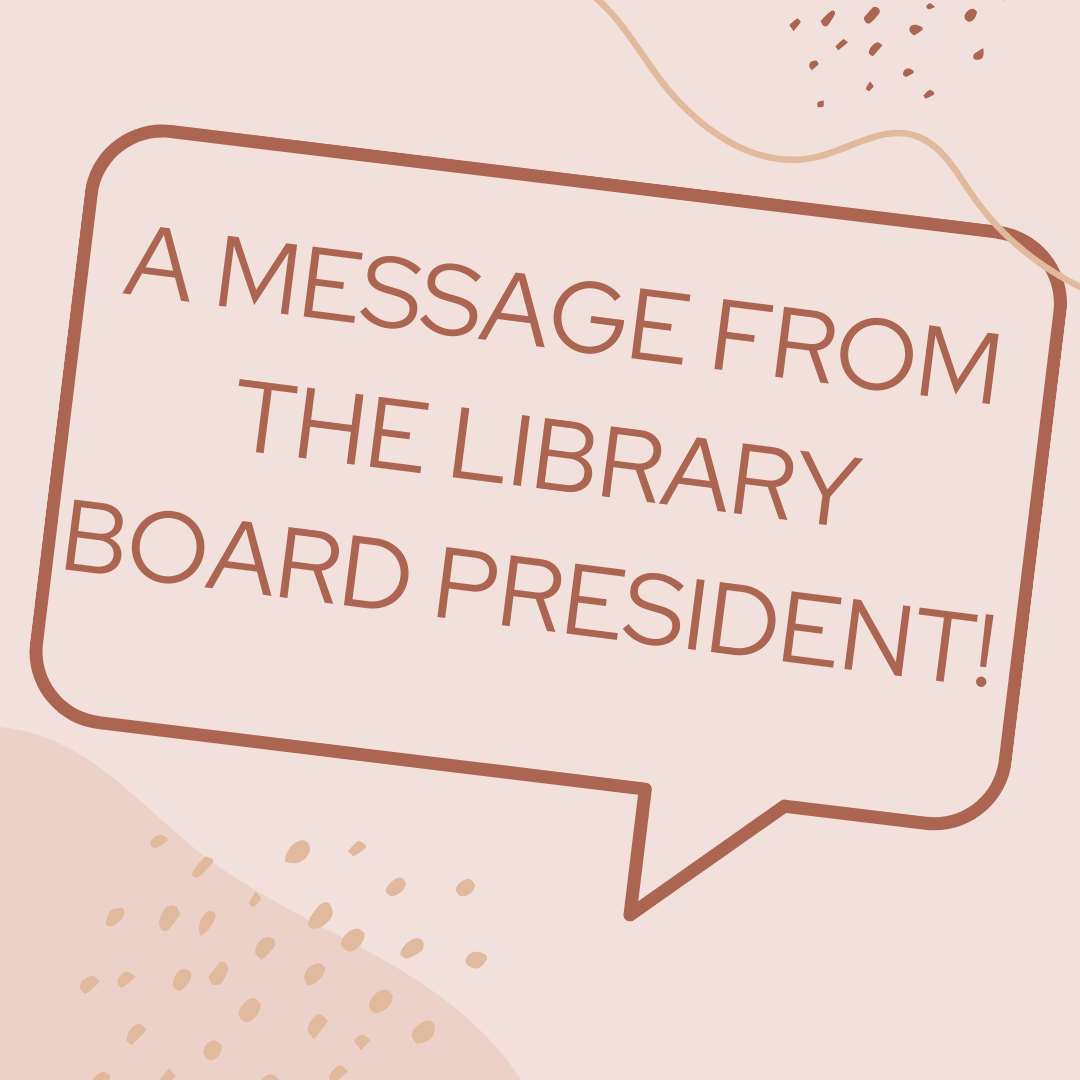 A Message from the Library Board President
April 2022
Thank you for your interest in the new library for Cadott!
I am Cookie Kaste, current president of the Cadott Community Library Board of Trustees. I hope you share my excitement as we finally transform the dream of a new library into a reality.  This page will be used to share information about committee meetings, projected timelines, photo updates, and fundraising opportunities. Today I'd like to provide some history of the building project.
As many of you know, our library has needed either major renovations or a replacement building for many years. With stairs leading both up and down upon entry, and restrooms downstairs, the existing structure is not ADA compliant. There isn't enough space for programs, children's story hour, tutoring, private work rooms, or for community groups to gather. The former Citizens State Bank building certainly is a valued community historical site, but it cannot offer the energy efficiency, updated technology, accessibility, safety features, and adaptability that a new building affords.
Former librarians and board members have been working toward a new library building since 2008. John Thompson, Director of our IFLS Library System, completed a Needs Assessment in 2011, from which we learned that the current building was lacking in several areas even at that time. Board members then identified several possible locations, including the Village-owned lot near the dam and the highway 27 corner lot that is currently our chosen location.
With the turn-over of Library Directors, momentum slowed. In late 2019 we again scheduled public listening sessions at Rick's Half Way and at the Elementary School. We met with Cory Scheidler from Cedar Corporation (architecture firm) and with John Thompson to again do a feasibility study of both vacant lots and possible tear-down of buildings on desirable lots. Then came COVID. Meetings continued, but often virtually with links provided for public participation.  After lengthy investigation and discussion, the Board of Trustees decided the best location was next to the Historical Society.
In August of 2021, the Village Board gave the Library Board permission to build on the Highway 27 corner lot (owned by the Village), on condition of satisfactory geological findings. The Village will not provide additional funding for the building project, but there is a possibility of applying for a block grant in 2024.
A meeting was held with representatives of the School District, Village Board, Cedar Corporation, John Thompson, and Library Board officers to discuss issues of traffic flow, busing, and child safety with a library at this corner location. Consensus of the group: after-school traffic/student safety concerns can be alleviated by school protocols and proper driveway, sidewalk and landscape design.
Members of the Building Committee, along with Capital Campaign and Community Awareness subcommittees, were recruited. Joint committee meetings began in October of 2021, with meetings at 4:30 on the second Thursday of each month, at the Elementary School Library. All meetings are publicized in advance, available virtually, and community members are welcome. (Time and location may change once the school year ends.)
This is an exciting time for our community, and I am thankful for dedicated members who have already volunteered their time and pledged financial support to make a new library happen. Please check back often as I will continue to post information and updates.
New Building FAQ
Our Building FAQ is available on PDF. Note that the Index is clickable to take you directly to the question you want the answers to first! This FAQ will be updated as the project continues.
If you have additional questions, they may be directed to the Library Director via phone (715-289-4950) or by e-mail johnson@cadottlibrary.org
Click Here for Building FAQ
(Updated: November 15, 2022)
Support the Project
Donations can be mailed to:
Cadott Library Building Fund
P.O. Box 68
Cadott, WI 54727
At last night's Library Board meeting, Cory Scheidler was present to show us some updated renderings based on our recommendations (re: library staff, committee members, and library board) from the...
read more
Note: The images shared below are FIRST RENDERINGS and are in no way final concept of the new building. They are shared purely as information on the project progress.* Last night's meeting attendees...
read more