On April 19th, a meeting of the the Village and Library Boards, members of the Building Committee presented the concept designs for our new library building. For full details on that meeting, report Julia Wolf wrote a great summary in the Courier Sentinel (available to read at the library), or you can read the minutes on the Village's website.
The purpose of this post however is to share our concept designs! After months of back and forth, our architects at Cedar Corporation used our input and feedback to create some fantastic renderings as our leaping-off-point for the future construction.
Before sharing the designs below, we do want to remind folks that we do have the Building FAQ, which will answer many burning questions about this process and why the library board has made the decisions they've made. We are moving forward with fundraising for this project, at the Mills/HWY 27 location, with these conceptual designs.
Without further ado — our future library exterior: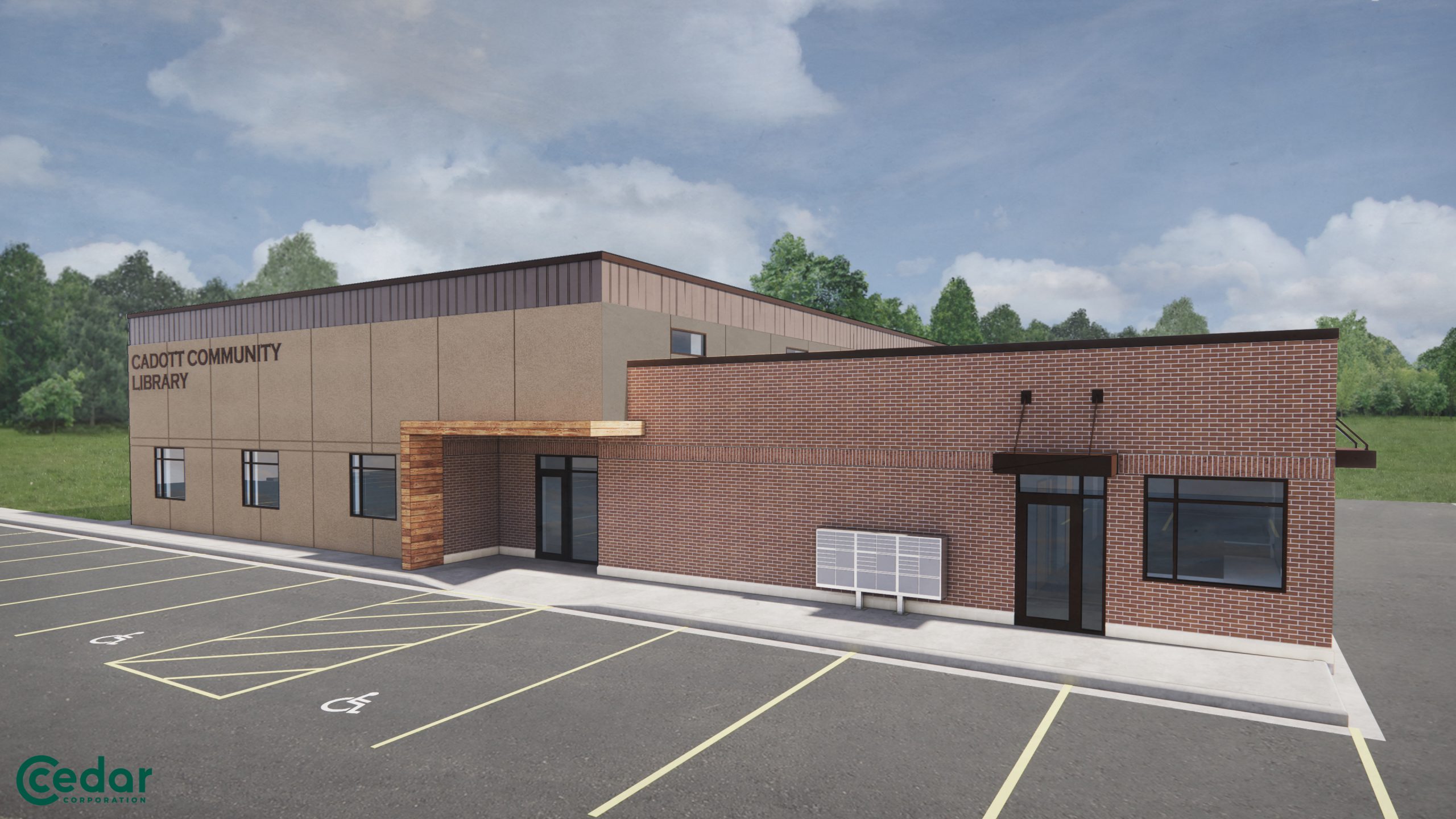 The exterior of our building will feature a prominent, visible name. The flat roofing will be graded at a slope, allowing drainage directly to the waste water system (an no need for snow removal). The selected design is made of per-fabricated panels, meaning that when the building process starts, it will go up quickly! The brick and colors will compliment the other buildings in the area, such as the schools. The colors of the rendering are not final. As seen above, we hope to have after-hours pick-up lockers, and an exterior drive-up window and book drop will be accessible on the south side of the building. The northern side of the building will feature a small green space area for small programs outdoors.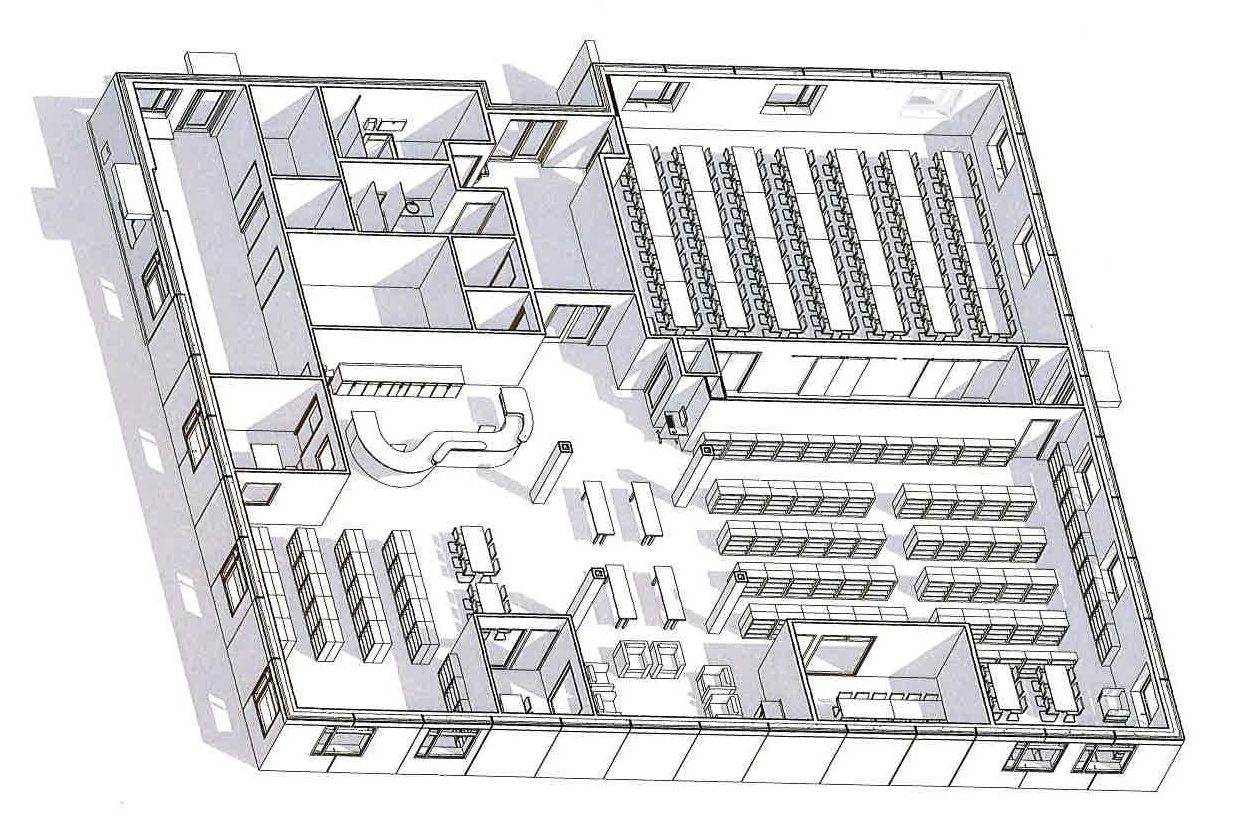 This is a 3D concept rendering of the interior. Furniture spacing and amounts are not actual, but representational of capacity. Our current library building is 3375 square feet. Our new space will be 8,950 square feet. While nearly tripling in size, this building will be more energy efficient, secure, and best of all: accessible to everyone.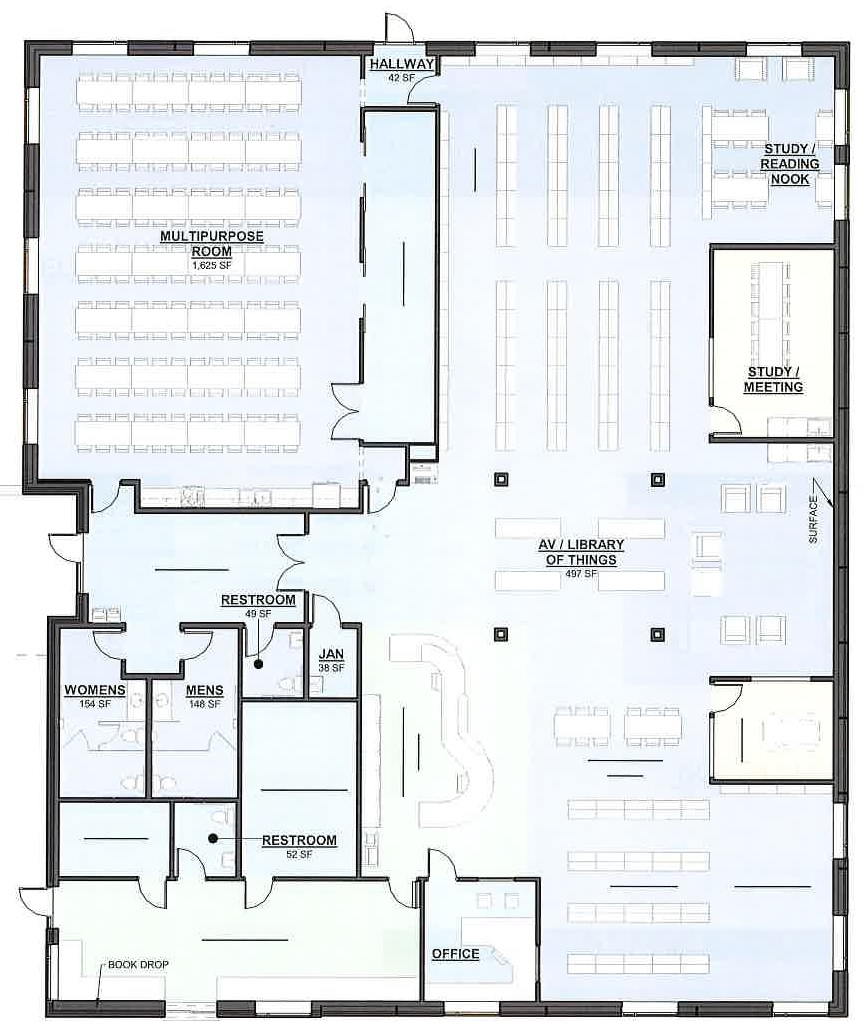 Some of the spaces we are most excited about include the Multipurpose room, which will allow for larger events hosted by the library, as well as other area groups. We look forward to more comfortable movie viewings, guest speakers, gaming events, hobbyist displays, and more. This layout will also allow for the library to be secured while the multipurpose room is still accessible to community groups for after-hours events.
We will also have two study rooms, one of which is a large enough as a secondary programing space for things like book clubs or other small groups. The other can still accommodate 2-4 for tutoring sessions or group work. Comfortable seating will be available throughout the library, as well as easy access to all of our collections. Staff will have ample storage, dedicated space for processing materials and courier delivery.
A closer look at these designs will be available at a community event, coming sometime in the next few weeks. Committee members and the director will be available to talk and answer questions in person. In the mean time, questions or concerns can be sent to the library director. Samma is available during open library hours by phone (715-289-4950) or by e-mail (johnson@cadottlibrary.org). If they aren't available, they will get back to you as soon as they're able.
We hope seeing these designs has you as excited about this project as our building committee and library board are. They are the fruits of over a year of planning and feedback exchange. We are thrilled to have the village approval to move forward with these plans and start our first phase of fundraising this year. Thank you to the community for the continuing support and patience as we've gotten to this point, and continue to work into the future.