When:
October 12, 2022 @ 5:00 pm – 6:00 pm
2022-10-12T17:00:00-05:00
2022-10-12T18:00:00-05:00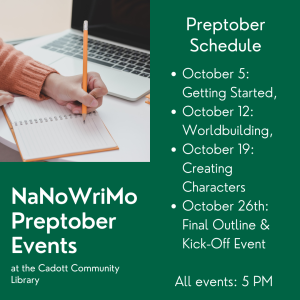 Samma is one of the 4 Municipal Liaison's for the Wisconsin: Elsewhere region. Having completed NaNoWriMo every year since 2009, we are lucky to have our own "expert" at our disposal! Join Samma in using October to prepare for writing your novel, delving into:
Week 1: What is NaNoWriMo and Writer's resources to get started
Week 2: Planning Session: Worldbuilding
Week 3: Planning Session: Creating Characters
Week 4: Final Outling and our official Kick-Off Event
These events will also be held virtually. You can register to get the join link here: https://forms.office.com/r/CDjCWECq8Q
Please note: The Library uses Microsoft Teams for virtual events. This may require an additional download.
Write-Ins will be posted on Wednesdays in November, starting at 4 PM.